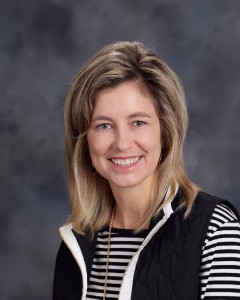 Counselor: Stefanie Weeks
email: sweeks@winfield.k12.al.us
Disclaimer
The information provided on these pages is not inclusive. Also, no endorsement is made for the programs, scholarships, links, etc.
New scholarship opportunities come up all the time, so here is your link to the page that has all that information. Check it often – additions are made every time a new scholarship is announced.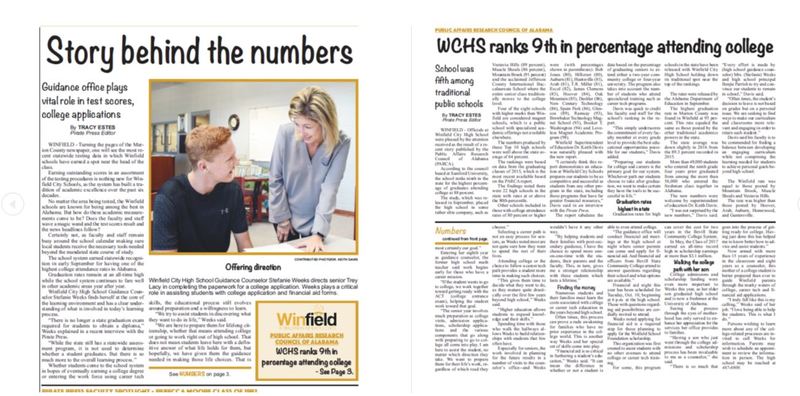 IMPORTANT SCHOOL DATES
WCHS 1st semester dates to put on your calendar..(Subject to change)
8/16 Regular deadline to sign up for the September ACT

8/19 College Fair (jrs & srs)

8/29 Balfour meeting (class rings and lettermen jackets)

8/29 Fall Pictures (yearbook pic)

8/30 Late deadline to sign up for the September ACT

9/2 No school – Holiday

9/15 ACT (WCHS is a national test center)

9/20 Regular deadline to sign up for the October ACT

10/4 Late deadline to sign up for the October ACT

10/8 Renaissance Faire

10/11 Homecoming & Homecoming Dance

10/14 No school – Holiday

10/15 No School- Teacher Meetings

10/16 PSAT test – 20 spots available 11th grade

10/24 Fall Festival- 60% Day

10/26 ACT

11/8 Regular deadline to sign up for the December ACT

11/11 Veteran's Day Holiday

11/22 Late deadline to sign up for the December ACT

11/25 – 11/29 Thanksgiving Holiday

12/14 ACT

12/20 60% Day

12/23 – 1/3 Christmas Break

1/6-1/7 No School – Teacher Meetings

March 19 – Prom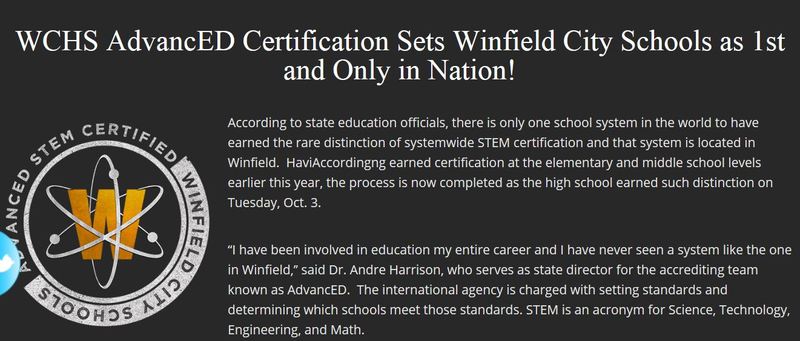 ACADEMICS (9, 10, 11, 12)
Take a demanding college preparatory curriculum (the most appropriately demanding schedule your high school has to offer). Get off to a good start. It's VERY difficult to raise your GPA if you start out low. A strong academic transcript is what many schools will view as the most critical piece of your application. If your high school offers any advanced, honors, Advanced Placement, or International Baccalaureate courses it's recommended you pursue those as appropriate. You should challenge yourself without getting in over your head.
EXTRACURRICULARS (9, 10, 11, 12)
Outside of the classroom, find your passion and pursue it to the fullest. As impressive as it may seem that a student is involved in numerous different organizations, it's equally (if not more) impressive to see a student who is involved in just a few organizations during high school and is in a leadership position in each of them. Think quality not quantity in terms of activities. Many schools will also place a value on service work that is done outside of the high school requirements.
RECOMMENDATIONS (11, 12)
Ask teachers from your core courses (English, Math, Social Science, Natural Science, Foreign Language) to write your letters of recommendation. Ask teachers who know you well or in whose classes you regularly contributed. Sometimes the teacher from the very difficult advanced-level course, where you worked very hard for a "B," may prove to be your best advocate. Of course, the teacher in whose class you performed exceptionally well may be an excellent choice as well.
Get to know your school/college/guidance counselor; their recommendation is also very important. Keep in mind that counselors are often busy serving students in many different capacities, so be aware how valuable their time is.
STANDARDIZED TESTS (11, 12)
For many schools test scores are more important than you want them to be, but less important than you think. While there won't typically be a preference between the SAT and ACT, some schools will require the ACT be taken with the Writing option; other schools may want SAT II Subject tests. Be sure you are clear as to what is expected of you and what will be considered as your application is reviewed.
THE COLLEGE SEARCH (10, 11, 12)
Begin your search by identifying your various personal and academic goals. It's important that you are confident that the schools to which you are applying offer academic programs which interest you and meet your personal needs (small v. medium v. large; urban v. suburban v. rural, etc.). Spend time considering what type of campus life and academic curriculum suits you. Visit as many schools as you can. Begin with a broad list of many different kinds of school and begin to narrow the list as you learn more about the schools and understand more of what you want out of college.
NOW WHAT? (11, 12)
Ask questions. Use campus visits wisely, asking questions of admissions officers, students, and professors. Call or email questions for which your internet searches don't answer. Understand that all your communications with the college will likely become part of your admissions file should you decide to apply, so avoid slang language and sloppy emails.
Lastly, give yourself options. In today's competitive college admission atmosphere, even the most talented students need options. Your list should include safety, target, and reach schools that you would be excited to attend. There are thousands of accredited four-year colleges and universities in the U.S., so with careful preparation and thoughtful consideration, you will land on a campus that is right for you.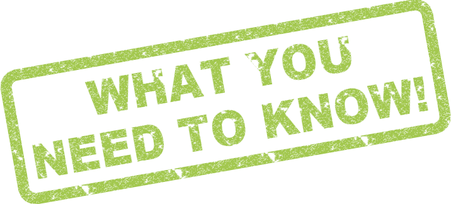 Bring acceptable photo identification. You will not be admitted to test if your ID does not meet ACT requirements.
Bring sharpened, soft lead No. 2 pencils with good erasers (no mechanical pencils or ink pens). … If you are registered for the ACT with writing, your essay must also be completed in pencil.
Bring a watch to pace yourself, but do not bring a watch with an alarm. If your alarm sounds during testing, you'll be dismissed and your answers will not be scored. No watch? No problem. The supervisor in standard time rooms will announce when you have five minutes remaining on each test.

Bring a permitted calculator to be used on the mathematics test only. It is your responsibility to know whether your calculator is permitted. Please refer to the ACT Calculator Policy (PDF). To make it even easier to figure out, you are not required to use a calculator at all.
Don't bring these into the test room; you can't use them!
Textbooks, foreign language or other dictionaries, scratch paper, notes, or other aids

Highlight pens, colored pens or pencils, or correction fluid/tape

Any electronic device, other than a permitted calculator (this includes your mobile phone, smart watch, fitness band, media player, iPad, headphones, and camera)

Reading material

Tobacco in any form

Food or beverages, including water (you will be offered a break outside of the test room)

Prohibited devices
HOMEWORK HELP
Need homework help? Check out Free Homework Help Online, an Alabama Public Library Service.
SUICIDE PREVENTION
Prevention Toolkit for Suicide Awareness at the High School Level: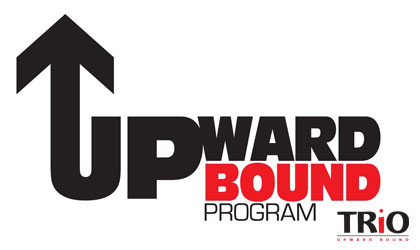 UPWARD BOUND PROGRAMS IS PROVIDING SERVICES TO ITS PARTICIPANTS THAT WILL ASSIST THEM IN PREPARING FOR AND ACHIEVING SUCCESS IN AN INSTITUTION OF HIGHER LEARNING
CLICK THE LINK BELOW FOR MORE INFORMATION.