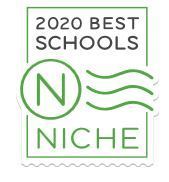 Winfield City Schools ranked #18 in Best School District of Alabama
Derek Trimm
Friday, August 16, 2019
Niche has just released it 2020 Best Schools in America Rankings and Grades.
Winfield was ranked #18 in the State of Alabama. Winfield City Schools superintendent Chris Cook was excited by the news of the ranking.
"We are very proud to be ranked as the #18 School District in the state. That's a testament to our faculty/staff and our students for the great job they do," said Winfield City Schools Superintendent Chris Cook. "Our faculty and administrators at our three schools are the best in the state at what they do, and I couldn't be more proud of the job they do every day."

Niche data scientists and user researchers rigorously analyze data and user opinions to assess the key aspects of K-12 Schools, Colleges, and Places to Live. Every month, millions of students and families use the Niche grades and report cards to find the right school or neighborhood.
The Process
Gather Data and Reviews We use the most up-to-date data available from dozens of public data sources along with millions of reviews from students, parents, and residents on Niche. Learn where our data comes from Rigorous Analysis Our Data Team uses advanced algorithms and statistical techniques to compare, normalize, and connect millions of data points to thoroughly analyze U.S. schools and neighborhoods.
User Insights Our Research Team combines user feedback and insights with industry standards to determine the key components that should make up our various grades.
Produce Grades Niche report cards are designed to capture what schools and neighborhoods are really like.
(source: www.niche.com)