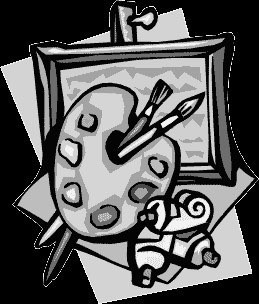 Visual Arts Class Application
Sandra Cantrell
Tuesday, June 09, 2020
ABOUT THIS CLASS:
This class primarily involves visual art and will focus on both art history/appreciation and art techniques and development of skills using various media. There will be a class taught at the 7th grade level and a separate class for 8th grade. These classes will be for the ENTIRE year and cannot be split or combined with other electives.
REQUIREMENTS:
Students entering grades 7 and 8 are eligible to apply for this class. Students must have completed the previous grade with a minimum A/B average. Interested students must complete the attached written application and submit three drawings. Student applications may also include the name of a former teacher that they wish to use as a reference. (Optional: but if submitted, this teacher will be contacted for their recommendation.) In addition to these requirements, students should have a genuine interest in learning about the history of art, art techniques, and producing art. Finally, parents/guardians must understand all class requirements and give their consent.
EXPECTATIONS:
Students are expected to fully participate in all class activities and complete all outside assignments. The production of art can be fun – but also long and tedious - and chosen students must be willing to "put in the time" it takes. I am NOT looking for students who want to rush through work and who don't care about doing their best on projects. Please be sure that you are committed to the class as you can be replaced at any time by a student who will better appreciate the opportunity.
HOW TO APPLY:
Open the pdf file below to access the application. Return it as soon as possible to scantrell@winfield.k12.al.us. As part of the application, students must submit three drawings to be evaluated. These drawings may be done in any media but must be 100% student work. Once completed, you may take a photo of each and return to my email OR text to 205-412-0235. Please contact me if you have any questions or problems filling out or returning the form or photos.

Link to PDF: https://5il.co/h1pn

The deadline for applying for the class is Tuesday, June 16th!
GOOD LUCK!
Sandra Cantrell