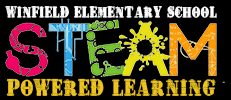 STEAM UPDATE: ADVANCED AWARDS WES STEM CERTIFICATION!
Winfield, ALFebruary 14, 2007-AdvancED congratulates Winfield Elementary School and Winfield Middle School on receiving AdvancED STEM (Science, Technology, Engineering and Mathematics) Certification as accredited whole school STEM sites. AdvancEd STEM whole school certification is awarded to schools that have implemented STEM learning as the core component of their curriculum for all students within the school.This achievement is a mark of STEM distinction and excellence only offered to highly effective institutions that prioritize STEM education as a path to success. AdvancED STEM Certification is the first internationally recognized mark of quality for STEM schools and programs, signaling the growing emphasis placed on STEM education by educators, politicians and business leaders around the world. In earning this certification, Winfield Elementary School and Winfield Middle School have demonstrated their commitment to preparing their students for their educational and career opportunities of the future by ensuring its students will have the skills and knowledge they need to be successful in their postsecondary pursuits and as workforce contributors in the 21st-century economy. In order to earn STEM Certification, Winfield Elementary School and Winfield Middle School had to demonstrate adherence to the AdvancED STEM Standard as reflected by the school's performance across 11 rigorous STEM Indicators. The certification process provides a rigorous evaluation and continuous improvement process, supported by research-based tools and resources. Achieving high scores across the indicators certify that students have been equipped and trained to be innovative, creative and systematic problem-solvers across disciplines.
Directing the review process for the system were K-8 STEM and Curriculum Coordinator Candy Garner and high school STEM and curriculum director Jennifer Birmingham.Each was commended by the board and superintendent for their leadership throughout the process.
"I have never been more proud to be a part of our system than today,'' Garner said.
"We have always known what we have here is special, but to hear it from these AdvancED teams means even more. To be the first elementary and middle school in the state to receive our STEM certification means so much."
AdvancED's STEM Certification Reviewers examined Winfield Elementary School and Winfield Middle School's evidence of quality STEM education that the schools provided to the review team beforehand, and conducted classroom observations focused on identifying student engagement and collaboration in the learning process using the Effective Learning Environment Observation Tool™ (eleot™). Reviewers also interviewed key stakeholders such as school administrators, STEM faculty and staff, parents, students, and external business and industry partners in order to verify the school's commitment to connecting students' STEM experiences in the classroom to the local community and the world at large.
Mrs. Garner's comments were amplified by Dr. Keith Shaffer, Mississippi Director of AdvancED who was conducting a concurrent 5-year External Review Accreditation visit with the school district."This school system is a hidden jewel in your state, as you have something here few others in Alabama have,'' said Dr. Keith Shaffer, "First of all, you have done well in providing technology in the classroom. Most do not have what your students have, but the way the teachers use the technology is exciting. And there were times when no technology was being used and it was still impressive because the students were engaged in hands-on STEM projects.''
Winfield Superintendent of Education Dr. Keith Davis was visibly pleased with the words Shaffer offered.In return, the superintendent praised his faculty and staff for the work leading up to the team visits but also for the work in the classroom on a daily level."I am very proud of what we have heard here today,'' said Davis. "I think this speaks very highly of our teachers and all facets of our program from this board to our administrators and all affiliated with our schools.''
AdvancED is a non-profit, non-partisan organization serving the largest community of education professionals in the world. Founded on more than 100 years of work in continuous improvement, AdvancED combines the knowledge and expertise of a research institute, the skills of a management consulting firm and the passion of a grassroots movement for educational change to empower PreK-12 schools and school systems to ensure that all learners realize their full potential. AdvancED operates three regional accrediting agencies and serves as a trusted partner to 32,000 schools and school systems—employing more than four million educators and enrolling more than 20 million students— across the United States and 70 countries.