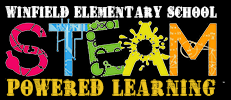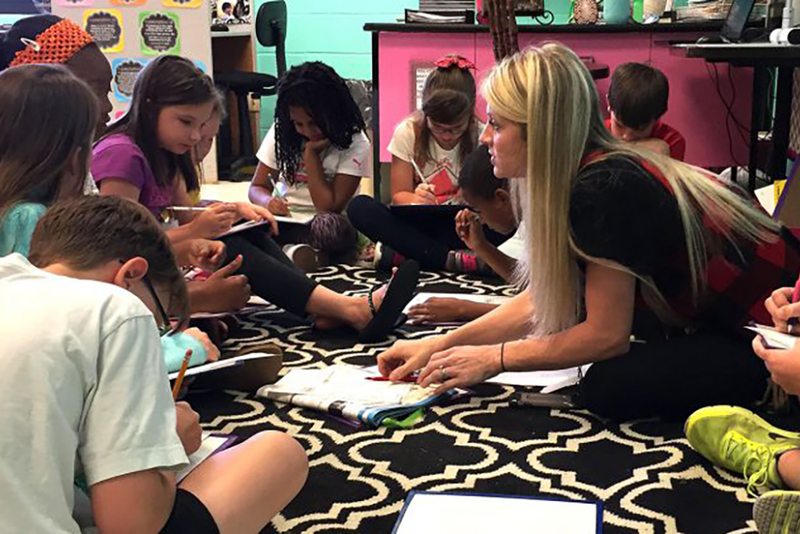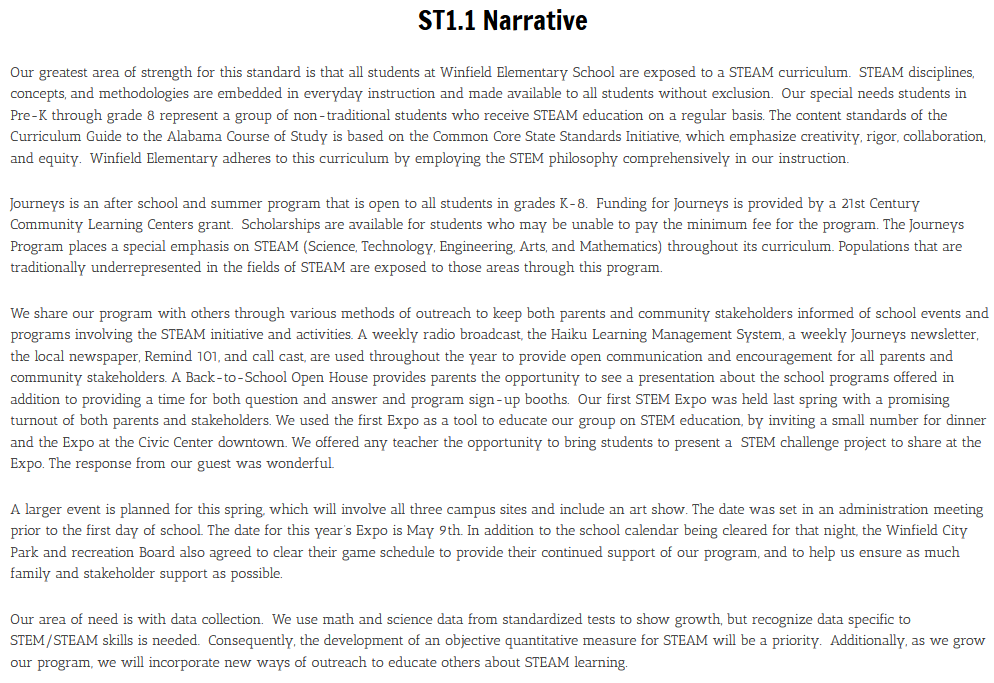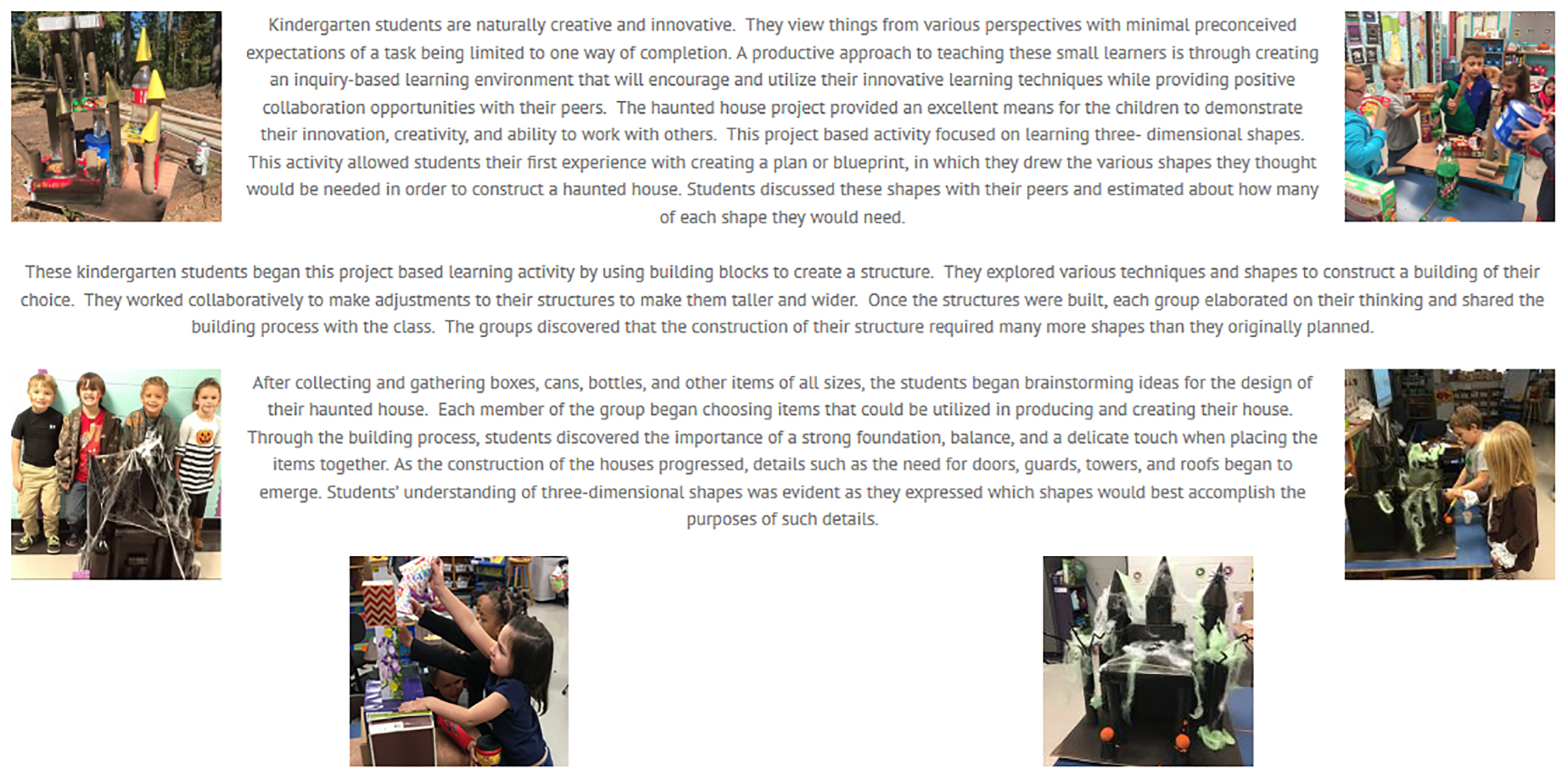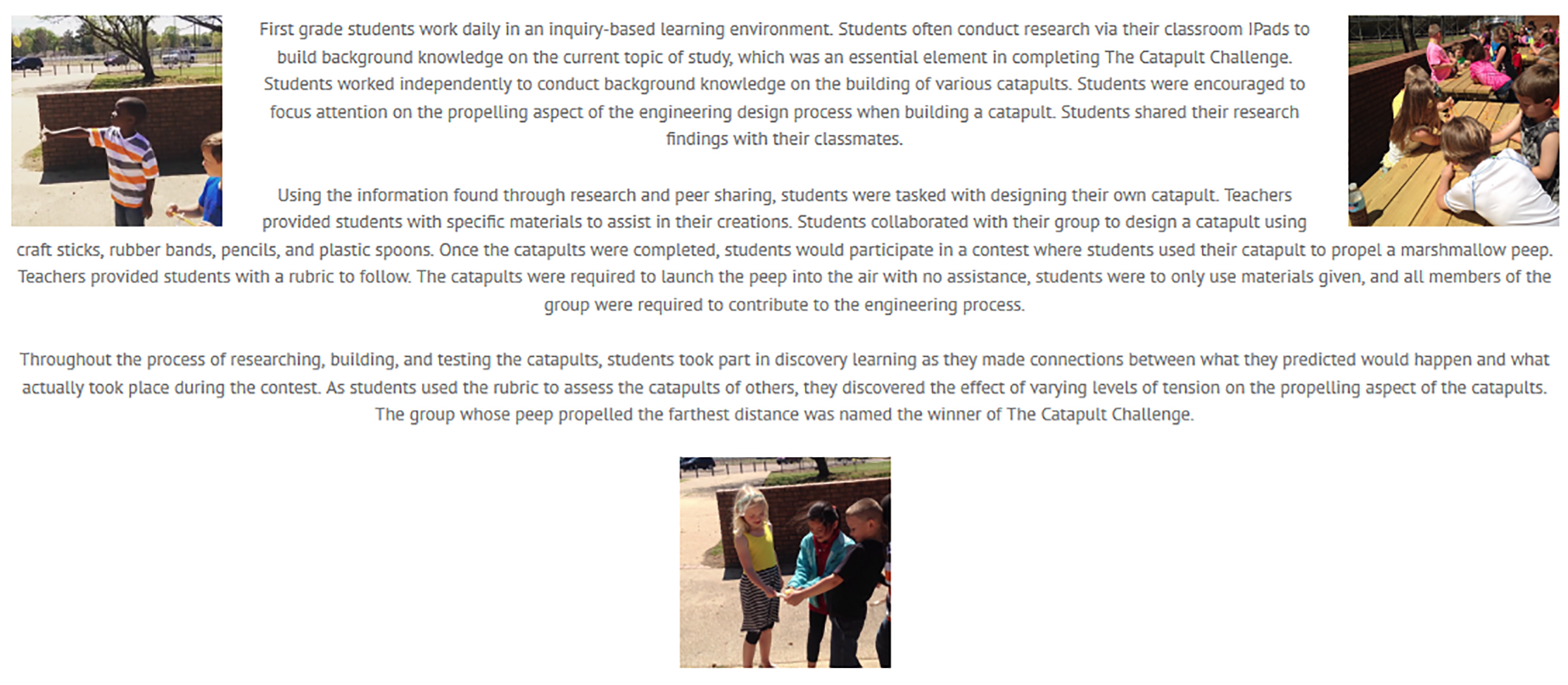 Fourth grade students work daily in an inquiry-based learning environment. Students often conduct research via their individual student laptops to build background knowledge on the current topic of study, which was an essential
element in completing this Thanksgiving themed project that spanned across the curriculum. As a class, students listened to the story Twas the Night Before Thanksgiving, in which a group of school children visit Farmer Mack Nugget and save a group of turkeys' lives by taking the turkeys back with them on the bus. As a whole group, the class discussed story elements, cause and effect relationships, and point of view. The students determined that they identified with the children in the story because they themselves are children, and they felt like saving the turkeys from becoming dinner was a noble act. In groups, students filled out a flow chart that illustrated cause and effect relationships from the story and discussed their results as a class.
The class further discussed point of view and perspective, and while we often identify with certain characters in a story because we share similarities, it is
important that we be able to look at a situation from various perspectives. The students were instructed to identify with the farmer from the story, Farmer Mack Nugget, who is suffering because his turkeys were stolen. Students were challenged to write a letter to the principal of the children's school, explaining what happened that day on the farm, how it affected him negatively, and what the children's punishment should be for committing such an offense. Students were given a blank turkey copy and used materials found outside (i.e. leaves, sticks, etc.) to disguise their turkeys.
Then, students watched the video of the 2011 National Turkey Pardoning, and learned that every year, the president of the United States pardons one turkey before Thanksgiving. The teacher told the students that this year, the turkey that was pardoned happened to be one of the turkeys that were stolen from Farmer Mack Nugget's
farm (in the aforementioned story). Students learn that the turkeys were released and the pardoned turkey is roosting in a tree behind the school. Students were then presented with the challenge of building a turkey trap, using only the materials supplied by their teacher, to catch the turkey. Students worked cooperatively in small groups to design and build a turkey trap. Afterwards, students presented their designs to their classmates. Later, students wrote a letter to the president of the United States explaining why their turkey trap would work to capture the pardoned turkey.
Third grade students partnered with the seventh and eighth grade horticulture class to fulfill their objectives when working with plants. Our third graders traveled to the greenhouse at Winfield Middle School. We were greeted by the seventh and eighth grade horticulture students who eagerly guided our students by modeling and directing the proper way to plant a young fern. Students incorporated measurement skills when deciding how deep to dig the hole for the plant. Students also used communication skills to discuss with their leaders (students from the horticulture class) as to the correct steps to use to complete the planting process. The middle school students had an abundance of ferns to plant for the spring sale and our third graders were happy to help ease this load. Knowing the ferns would later serve our community and benefit our school with profits from the spring plant sale, provided additional encouragement to our young gardeners.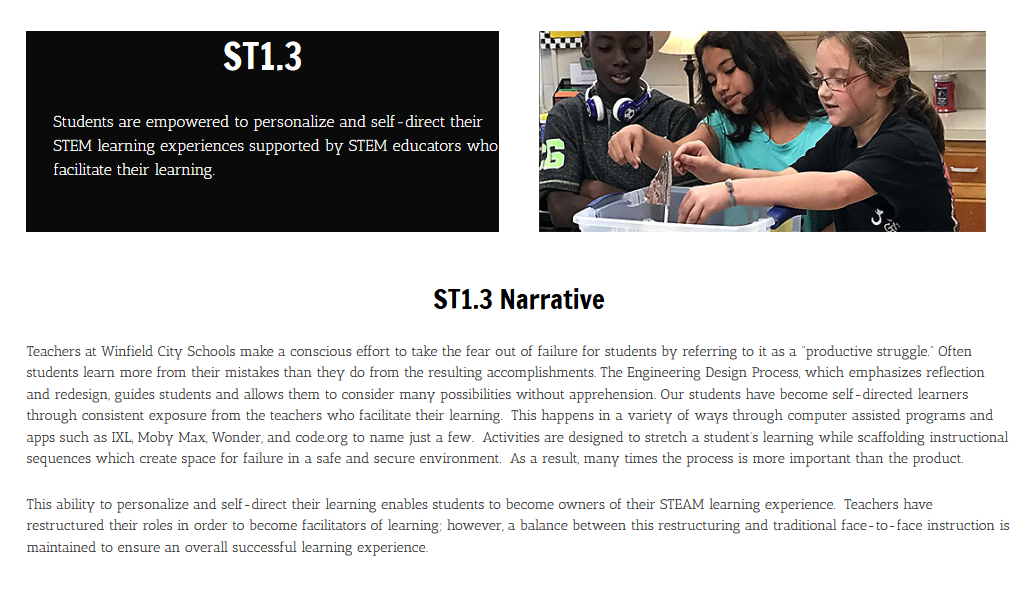 Students from Pre-K to grade 4 are both encouraged and empowered to personalize and self-direct their STEM learning via the use of technology on a daily basis at Winfield Elementary School. From iPads to laptops, students have their own personal device and are comfortable with using it. Additionally, teachers provide daily instruction with Promethean boards, and ELMO projectors. Content area skills are practiced, reviewed, and strengthened through the use of computer programs such as IXL, Moby Max, Accelerated Reader, and code.org, just to name a few. Formative assessments come quickly with the use of Plickers, games like Kahoot, and various iPad apps. Kindergarten students use QR codes and iPads to partner read their reading stories. New to us this year, is our "Pirate Steamship Lab" which houses five TV monitors with computers and a Promethean board to further encourage collaborative and inquiry based learning in a destination and arrangement different from the regular classroom.
Students at Winfield Elementary School are provided multiple opportunities to experiment, grow, and reflect on their various learning experiences. The technological resources available to them helps our students to both self-direct and self-pace their learning, in order to meet their diverse learning needs and accomplish their educational goals.
First grade students are empowered to personalize their learning experience on a daily basis. The first reading unit students are introduced to encompasses animals and animal communities. In conjunction with their reading unit, students used technology to create animal animations. As a daily routine, students complete journal entries and share their writing with their peers. To begin the animation process, students were presented with a prompt that challenged them to imagine they were farm animals that possessed human qualities. Students self-directed their learning experience by choosing their own animal and creating a possible dialogue for it, which they shared with their peers.
For the next step in the animation process, students created an art project to reflect the animal they chose in their journal writing. Students worked independently to draw and color their farm animal. As participants in the one-to-one initiative, students used the ChatterPix application on their IPads to capture a picture of their animal artwork. Using ChatterPix, students worked collaboratively to animate their animals by recording their own voices reading the dialogues they previously created in their journal writing.
First grade students completed the animation process by sharing their creations with their peers. Additionally, students visited with Mrs. Rhodes second grade class to share with them their learning experiences during the animation process. First grade students were also welcomed in the administration office as they shared their finished product with Principal Williams.
Second grade students are encouraged to personalize and self-direct their STEM learning experience. After reading the Caldecott Honor-
winning picture book, students were tasked with an engineering design challenge. Students were challenged to create a fence that would contain a "creepy carrot" using the fewest number of craft sticks. Students collaborated with their group members to plan their fence and recorded their thoughts on a lab sheet.
Teachers facilitated the learning experience as they required the fence to completely surround the carrot and be higher than the carrot as it lay on its side. Students were given materials such as cardboard, craft sticks, yarn, and tape. Students were autonomous in that they could use the materials however they wished, as long as the fence met the height and width requirements. As student groups completed the fences, they measured the height and width of each fence and recorded these findings on their lab sheet. Each group also recorded the number of sticks used to build the fence and compared their number of sticks with other groups. Group members shared their thoughts and designs as they were engaHeadlineged in classroom discussions and peer sharing.
In the fall of this year, our high school classes were challenged to make scarecrows. They worked in groups to create scarecrows of living famous people, historical figures from long ago, or local people from our town. Then, the mischief started. The night before the 1st day of fall ,the scarecrows made their way (with a bit of help from administrators and teachers) from the halls of the high school to the front lawn of the elementary school. Elementary students were greeted on the first day of fall with a sign reading "Happy Fall Y'all" from approximately forty to fifty scarecrows. From this project, an interdisciplinary project was born.
Fourth grade students research topics in all disciplines daily, using their own laptops to further their understanding of class discussions, small group content, and group or partner projects. These research techniques were utilized to help students learn and create a story about the scarecrow sculptures. The name of the assignment was, "If I Only Had a Brain…", and students were challenged to work collaboratively to determine what their chosen scarecrow would do if it could come to life for one day. Following a tour of the scarecrows each group was tasked to choose a scarecrow to bring to life. Brainstorming, planning with their group, and using a graphic organizer to outline their ideas, led students to write and type a five-paragraph essay about a day in the life of their scarecrow. Just as the scarecrows were shared with the elementary school, the fourth graders in turn shared their stories with the high school. The fourth grade essays were displayed on the walls of the high school. High school students enjoyed reading about the adventures of their scarecrows equally as much as the elementary school enjoyed writing them.
The inspiration for the scarecrow sculptures ranged from protagonists in well-known novels, to athletic role models, to software extraordinaire. To share our project with the community, scarecrows and essays were displayed at the Fall Festival which was located at the Winfield City Park.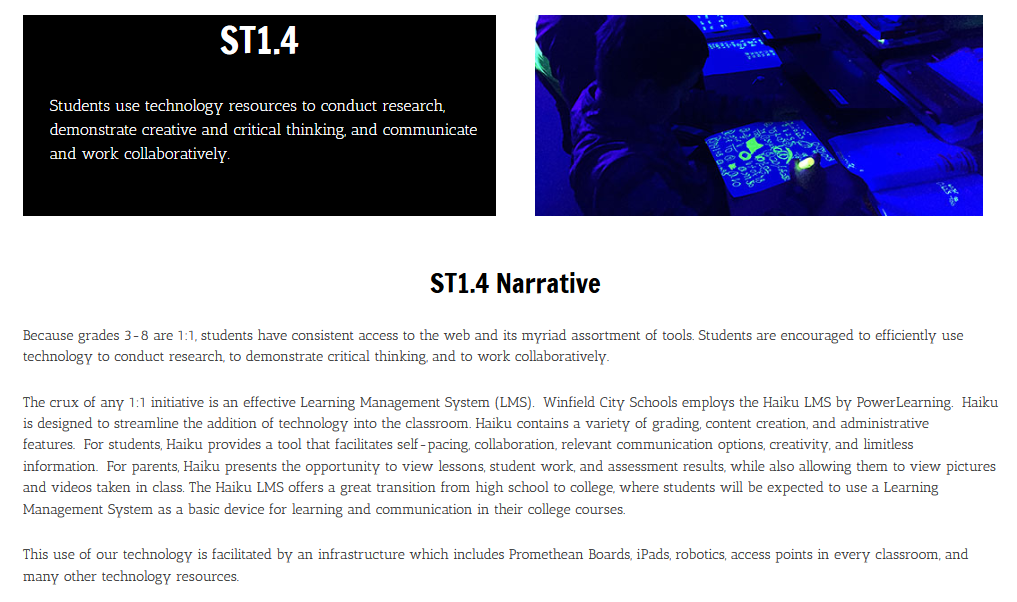 Third grade students often use technology to aid them in completing STEM activities. As students studied the lives of Native Americans, they were challenged to recreate various home structures. Students were placed into seven teams and then drew out of a bowl to receive one of seven Native American Homes they were to build. Homes built included a Wigwam, Chickee, Hogan, Pueblo, Plank House, Longhouse, and Teepee. Each team researched their given Native American Home in order to find out which Indian Tribe lived in it, where it was built, and how it was built. Students had to research and determine the natural resources used to build their home and what materials they could use in their recreation of the home. Finally, students were given materials in which to build their homes.
As a culminating activity, the third grade classed visited American Village in Montevallo, AL to experience the First Thanksgiving. The students were divided into colonies and toured the grounds by actors in full costume. The students sailed on the Mayflower to the new country; exchanged gifts with a Native American tribal chief who befriends the colonists; played Colonial games on the green field and participated in the first Thanksgiving Feast.
Gifts for Santa's Scientists
Fourth grade students research topics daily, using various tools, to further their understanding of class discussions, small group content, and group or partner projects. These research techniques were utilized in a multi-day cooperative learning lesson in which students researched twelve types of scientists to learn about their areas of study. Then students shared and discussed their research information with their teams.
As a class, students brainstormed types of scientists and wrote down some ideas without discussing anything about the scientist that was mentioned. Next, the "What Do Scientists Study?" chart was displayed and students were asked to turn to a partner and discuss any of the types that are familiar to them. Before assigning groups, facilitators explained that students were going to help Santa decide which gifts to give each scientist, but before they could help, they needed to conduct research to find out more about each type of scientist. In teams, each student shared about one scientist in the order they appeared on their research pages. Team members recorded the key words from the area of study next to the type of scientist on the chart.
As a culminating activity, students worked with a partner form their team to match the list of gifts provided with the correct scientist based on the research conducted. Students were further challenged as they were asked to turn in all research notes. On memory alone, the partners discussed each type of scientist and decided which gift would be most appropriate. Some gifts might seem to go with several scientists, but each gift could only be used once so there is only one completely correct solution. This activity further demonstrated how well the students were able to recall what they researched.
Second grade students work independently and collaboratively in an inquiry-based learning environment. After reading the story, The Rough Face Girl by Rafe Martin, interest was piqued to conduct research pertaining to Native Americans. Students used their IPads and nonfiction books to research Native American ways of life. As a result of their research, students built upon their prior knowledge of teepees serving as homes for Native Americans. Students discovered that in addition to teepees Native Americans also lived in wigwams, rather than houses. This knowledge led students to ask the question, "How would one build a teepee that could be strong enough to serve as a home?"
In search of answers, students researched pictures and tips for constructing a tee pee. Students collaborated within groups to brainstorm and design their own teepee. As facilitators, teachers provided each group with a flour tortilla cut in half, three toothpicks, three pretzels, and a scoop of icing. Students were challenged to construct a teepee that would successfully stand on its own using all of the materials. After construction, students used food coloring to paint decorative Indian symbols on their teepee.
As a culminating activity, Mrs. Rhodes' class used their teepees to create an obstacle course to use with Dash the Robot. Students worked in groups to measure the course, code the correct movements into the Blockly application, and thus program Dash to move throughout the course without bumping into the teepees.
Second grade students also face-timed with fifth grade students, offering advice on the best way to construct their teepees as the fifth grade students were completing a somewhat similar activity.
Students at Winfield City Schools use technology to enhance their learning experience. In January, fourth grade students communicated via FaceTime with a fellow classmate, Joy Patel, who was visiting family in India. As natives to India, Joy and his family returned to attend a wedding ceremony. This correspondence with Joy and his family piqued the interest of students to learn more about the culture and traditions of others. Students used FaceTime to communicate with Joy on two different occasions. During the first encounter, Joy educated students on the traditional wedding ceremony in India. Following the correspondence, students collaborated to create questions they were mutually curious about pertaining to Joy, his family, and the traditions of India. These questions served as talking points for a follow up FaceTime experience, which involved both Joy and his father. These sessions provided our students the opportunity to enjoy and learn through a virtual trip to India. As a result, students will be more aware of Joy and the different culture he represents. This awareness will enable students to recognize that while we are all different, we also have much in common, such as the love of family and happy celebrations.
Each kindergarten classroom is equipped with an IPad for every student. There are several applications that the students use frequently on their individual IPads that engages them in educational activities with desirable outcomes. Learning the appropriate expectations on how to use the IPads are included in our daily instructional path at the beginning of the year. The students quickly learn how to handle and manipulate this form of technology, and it becomes an important role in these young learners' daily routines.
The use of QR codes is an excellent example of the students' ability to implement the use of their IPads in the
classroom. QR codes are used to achieve several goals by the students. The children can independently open the QR application and successfully scan a QR code in order to listen to a story, locate a specific link about a given research topic, and reach letter of the week activities. These codes provide the students with an independent avenue as well as an alternative to the traditional paper pencil means in presenting an educational task.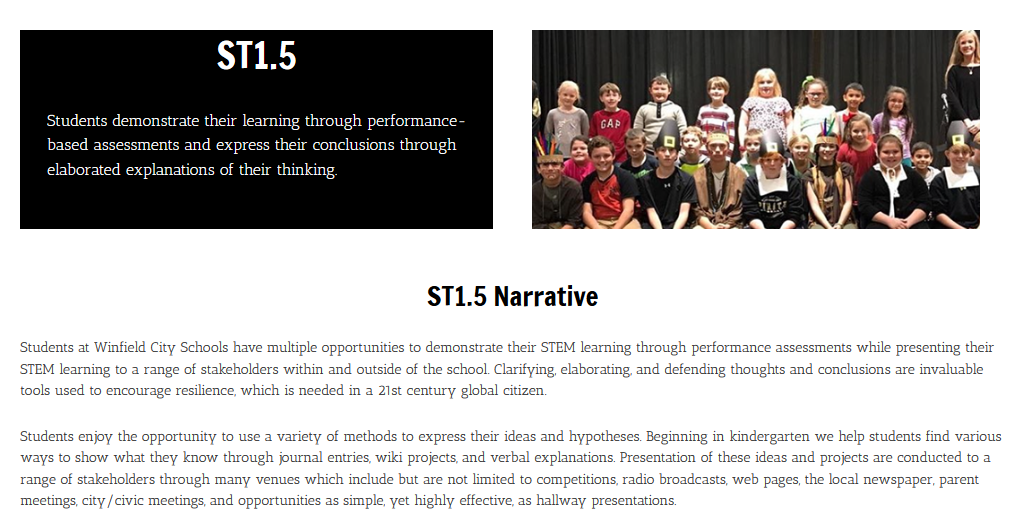 Pumpkin Day is a collaboration of various educational and hands-on activities centered on the concept of pumpkins. These activities include concepts such as measuring, weighing, comparing, counting, odd and even, predicting, more and less, the five senses, chemical reactions, and adjectives, all while the students are actively and eagerly engaged in their learning process. The students also use a wide range of tools coupled with their own powerful sense of observation in order to conduct and complete these activities. The skills and concepts named are included to enhance the skills being taught within the classroom.
One specific activity is the pumpkin investigation. The students use their five senses to explore a real pumpkin. After feeling the inside and outside of the pumpkin, students engage in discussing their discoveries through the sense of touch. These findings are shared and recorded by the facilitator. Using their sense of sight, students discuss adjectives that describe what they see. The children use terms such as big, round, sphere, orange, bumpy, and smooth.
Another aspect of Pumpkin Day includes each student making a prediction concerning the number of seeds the pumpkin contains. The seeds are then counted to determine if any students guessed the correct number of seeds. This activity requires the children to be able to compare the numbers predicted to the actual number of seeds and determine which student guessed correctly or made the closest prediction. Students also count the number of bumps going around the pumpkin and determine if the number is odd or even. This portion of the activity not only provided opportunity to count, but it also facilitates discussion about place value and odd and even numbers.
Christmas Around the World
Second grade students often demonstrate their learning through performance-based assessments and provide elaborate explanations of
their thinking. During the Christmas season, students spend time reflecting and writing about their family's holiday
traditions. After reading Christmas stories such as Night Tree and The Legend of the Poinsettia, students posed the question, "How do different countries celebrate Christmas traditions?" This inquiry led to the coordination of the project "Christmas Around the World". Each second grade classroom transformed into a different country: Australia, Italy, Holland, Mexico, France, and Germany.
In order to provide students with an adequate amount of time to research and learn about a variety of Christmas traditions, students rotated to a different country every day for a "visit." Students collaborated within their groups to discover various celebrations and traditions. After much research, students presented and discussed their findings with the other groups within their class. Once group work was completed, students created a craft as a "souvenir" and tasted a popular snack from that particular country.
This project also incorporated community involvement as, Judy Godfrey, a local artist, taught children about Aboriginal dot painting when they visited the classroom disguised as Australia. Ms. Godfrey assisted the second graders with designing and creating a dot painting
on a boomerang. These boomerangs were later used at the Winfield Elementary Art Show to showcase art from Australia. The Australia visit was also particularly special as the teacher facilitating the learning of this country, Julie Rhodes, was able to share experiences in her own personal visit to this country.
Fourth grade students complete various activities that require them to demonstrate their learning through performance-based assessments. As a beginning activity, students often research a given subject using their laptops in order to build background knowledge. In the fall semester, students spent several weeks exploring Potential and Kinetic Energy, as well as how mass affects the pull of gravity. In this particular STEM activity, students were discovering the relationship between mass, gravity, and speed through a Pom Pom Drop.
Students were challenged to construct a track in which a pom pom could travel using only empty toilet paper rolls and masking tape. The challenge was to keep the pom pom on the track for at least ten seconds. Students worked collaboratively to construct a track that successfully reflected previous research findings pertaining to the pull of gravity. Students were
empowered to test their designs throughout the process, and assess necessary modifications that could potentially improve their design.
Third graders worked in science teams to discover the life cycle of plants. Students worked collaboratively in an inquiry-based learning environment and demonstrated their learning through performance-based assessments. The ultimate goal was for students to have an understanding of this lifecycle and to carry on with observations, which were facilitated by students in the Winfield Middle School Horticulture class. In the initial investigation, students conducted a seed search to answer the focus question, "How are seeds alike and different?" Students were grouped by Science teams and allowed to select a fruit from the teacher table. Each team was instructed to find the tools to use in order to open their fruit and to remove the seeds they found. Student led discussion was encouraged as the teams created a line plot to show the number of seeds found in each type of fruit. The differing number of seeds furthered student discussions as the teams brainstormed the causes of each fruit having a different number of seeds. Students used their observations to revisit the ideas and discussions regarding the similarities and differences of seeds. Students recorded their observations in their science journals to use for later investigations.
Next, students investigated the effect water has on seeds. The science teams collaborated to set up mini-sprouters to initiate this investigation. Students watered their seeds each day for one week and recorded growth in their science journals. In the third investigation, students were assigned a task card that described a way that seeds travel in nature. The class then went outside and was instructed to use the materials given to create adaptations that would complete the dispersing of their seed in the way that their task card described. The materials for this task were as follows: construction paper, craft sticks, pipe cleaners, cotton balls, twist ties, rubber bands, masking tape, string, and toothpicks.
During the time of these investigations, students participated in weekly trips to Winfield Middle School where they were assigned a group leader from the seventh and eighth grade Horticulture class. These group leaders worked with the third grade students to plant the sprouts from investigation one. The growth of these sprouts was recorded over a four week time span using a student created bar graph to aid students in understanding and visualizing the complete lifecycle of a plant.