CONTACT THE COUNSELOR
Heather May
Guidance Counselor
email: hmay@winfield.k12.al.us
Phone: (205) 487-2305
Fax: (205) 487-8907.
Winfield Elementary School Counseling Program
Vision Statement
The vision of the counseling department at Winfield Elementary School is that all students are lifelong learners who are excited about opportunities to continue the tradition of excellence. They are creative, positive, and resilient adults making a dynamic impact in their homes, workplaces, and world.
The Guidance and Counseling program is a comprehensive program which includes guidance curriculum, individual student planning, responsive service and system support. Classroom guidance activities are systematically implemented in all grade levels. Individual and small group counseling is available by parent, teacher, administrator or student self referral. Counseling is short-term, voluntary and confidential.
Elementary school counselors are becoming more essential to the development of America's youth and the future of our country with every passing year. Strengthening conceptual skills such as reinforcing the foundations of learning and adapting to varying environments is trumping the archaic ideas of teaching particular skills and tricks to develop behaviors that work in a static environment.
The goal of elementary school counseling is to lay the foundation for our youth to grow and fill the positions of next generation citizens, parents and business leaders.
Our strategies need to keep pace with a rapidly evolving economy and social networks. It is becoming more and more obvious that predicting the future is not only difficult, but impossible. Elementary school counselors have already begun to adjust their methodoligies and curriculum to adapt to America's future demands of a more flexible and confident citizen.
COUNSELOR CLASSROOM IS FOR INSTRUCTION AND TEACHING LIFE LESSONS AND HAVING FUN ACTIVITIES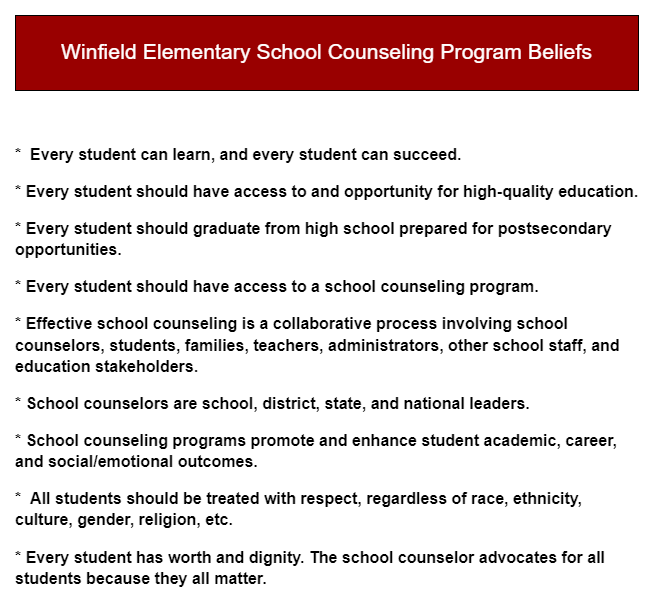 GUIDANCE CURRICULUM
Guidance Curriculum is presented through classroom or group activities and provides students with assistance in:
Self Awareness

Values of Learning

Decision Making

Goal Setting

Relationships

Career Exploration

Drug Prevention/Safety

Character traits
INDIVIDUAL STUDENT PLANNING
Individual Student Planning assists students with:
Test Interpretation

Academic Achievement

Personal and Career Development
RESPONSIVE SERVICE
Responsive Service includes:
Student Counseling

Crisis Counseling

Agency Referral

Parent Consultation

Teacher Consultation

Support Groups

Problem Solving
SYSTEM SUPPORT
System Support includes:
Staff & Community Relations

Special Projects

Committees

Professional Development

Student Support Teams

Testing Coordination

Honor Rolls

Record Keeping

Other

WINFIELD CITY SCHOOLS COUNSELING AND GUIDANCE PROGRAM MISSION STATEMENT
The mission of the Winfield City School System's comprehensive school and guidance program is to prepare every student socially, academically, and emotionally for present and future challenges. Students are provided opportunities to gain an understanding of self and others, to participate in educational and occupational exploration, and to pursue career planning opportunities in an environment that is safe, caring, and encouraging. Counselors work in collaborative partnerships with students, educators, parents, and community members to empower students to reach their highest level as productive members of society.